The web design industry is broad and evolving constantly. There are new developments every day to make your website stand out among the crowd, while also making it more accessible for visitors.
These six effective tips will help you build a strategy that promotes your business and makes sure you're ready to take on any challenges that come along in the future.
The "who can build a website for my business" is a question that many small businesses and startups ask. The answer to the question, is not as simple as it seems. In order to find an effective web designer, you should look for someone with experience in your industry who has built websites similar to yours before.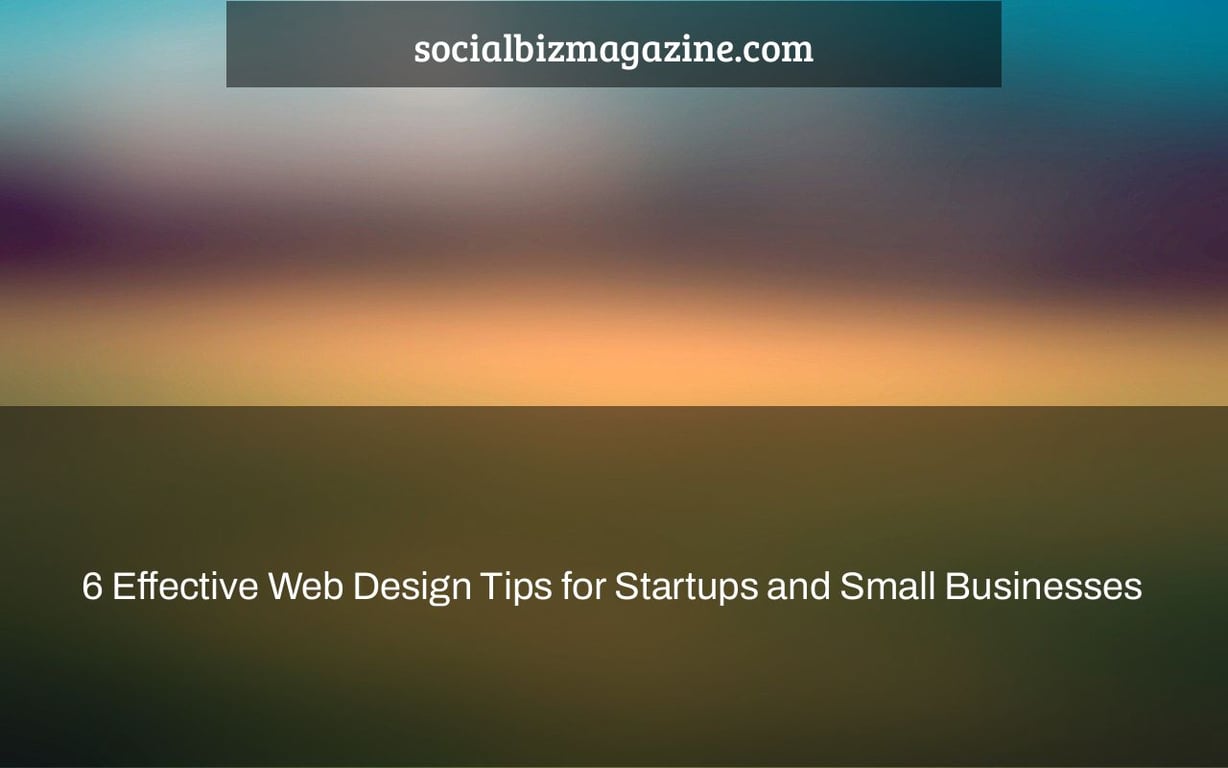 The design is the most significant aspect of beginning your own company and developing content for a new brand. The design attracts visitors to your website, blog articles, social media accounts, and any other information you publish.
To make your design the best it can be, you must ensure that it is visible and stands out from the throng. Here are six of the greatest design recommendations for a starting company to help you stand out from the crowd.
1. Be specific with your offer.
More isn't necessarily better in the realm of design. Just because you have the ability to add an image or a very nice font doesn't mean you should. You most likely have a concept for your starting company, and it should be the focal point of your design.
You don't want to post photographs of automobiles all over your website if you're starting a gardening company. That will confuse your consumers, and a confused buyer will not purchase your products.
The focus of your marketing and design should be on what you're selling. If you're not sure what you're providing, don't publish the post till you are!
2. Decide on a color palette and stick to it.
Every piece of material that you create should have a format. It might be a vibrant color scheme, a minimalist design, or even a simply colored border. Be consistent with your format and design style, whatever it is!
Make sure to use the same fonts and colors on all of your pages, and if you have an unique intro or outro, make it the same on all of them! Changing every single page may seem to be a creative method to express yourself, but it typically does more harm than good.
3. Include strong calls to action.
You may have the finest design in the world, but if your audience doesn't know what to do with it or isn't motivated to act, you're doomed. Make it as easy as possible for consumers to purchase your items, utilize your services, or accept your offer.
You can learn more about the three greatest methods to build your content around your call to action in this Designmodo piece. You want to call attention to them since that is how sales are made.
4. Make the website user-friendly.
Your webpages may be seen on a variety of devices, each with a distinct screen size and quality. You must ensure that your website can be viewed easily on any device in order to work with your customers on any device.
Increasing your marketing strategies by optimizing your website for phones, iPads, and PCs is a no-brainer. Spend some time perfecting those designs and ensuring that users easily access the information they want. On multiple devices, you may keep your themes and formatting the same. Don't forget about email accessibility; it's critical to keep your email newsletter and landing page website in the same design style.
5. Design a logo that will stick in people's minds.
Finally, your logo is the gateway to your company, so you'll want to make it a decent one. Your logo should appear on your business cards, social media footers, email signatures, and everywhere else you wish to promote your company.
Keep your logo simple and focused on precisely what you do for your consumers. If you own a writing company, make sure your logo reflects this. Use garden images if you're beginning a gardening company. The logo is the most important aspect of any company design, and you must get it correctly.
6. Provide precise instructions
You should have clear instructions on how to go from a landing page to your home, about, and services pages on your website. You need to demonstrate where everything is if you want them to remain on your website and ultimately look at your offerings.
You don't want potential clients searching your website for your contact information or price and being unable to discover it. As a result, ensure sure each page is properly labeled and prominently displayed at the top of your website.
Work diligently on your design.
Many starting firms concentrate on the final product and the value they will deliver to clients after they have purchased it. However, few organizations concentrate on bringing those clients in the door and establishing a process.
A large part of that procedure begins with the website's design. The design is what draws visitors to your website and keeps them there to read all of your information. And if your online experience and content meet their demands, they're more inclined to purchase your items and services in the future!
When it comes to starting a firm, you should not scrimp on the design. It's the finest approach to set your startup or small company on track for growth if your designs are successful.
The "how to create a website for business" is a great resource for small businesses and startups. It gives 6 tips on how to create a website that will be effective in the digital world.
Related Tags
building a small business website with wordpress
how to build a business website from scratch
best website design for small business
tips for creating a website
make your own website for small business free